Authorized access has come a long way from using keys, pin codes, cards, and fingerprints. We now find ourselves stepping into the era of face recognition.

The use of face recognition in access control and time attendance has been an inevitable trend, which creates advantageous "touch-free" experience. With advanced deep learning technology and practical functions, Hikvision, Suprema and Zkteco Face Recognition Terminals bring better security and improved efficiency to access control and time attendance tracking, making them easier than ever!
PRODUCT HIGHLIGHTS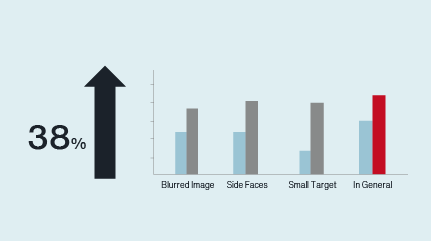 Superior Recognition in Any Environment
Accuracy Rate over 99%
Recognition Speed under 0.2 Seconds
Fast Recognition in Low-light Environments, Even in Complete Darkness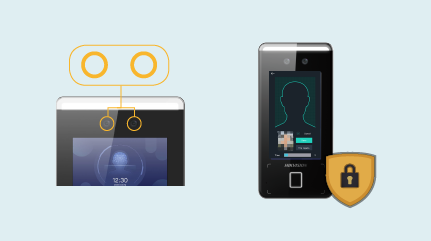 Top Level Security
Face Anti-Spoofing Ensures Access Security
Data Encryption to Protect Data Privacy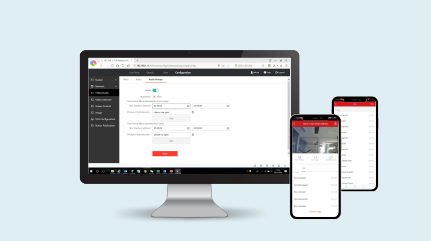 Easy to Manage and Operate
Quick and Easy Registration with Various Access Methods
Remote Control via Mobile App
Convenient Web Configurations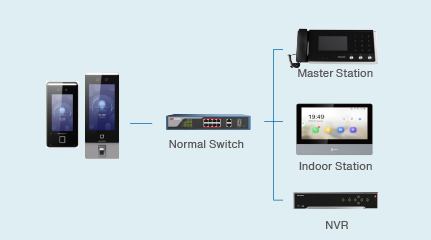 Better Extensibility
Linkage with NVRs, Network Cameras, and Indoor Intercom Stations
E-Home 5.0 (ISUP 5.0)
Abundant third-party integration options
Hikvision Touch-free MinMoe face recognition
Hikvision announced its new access control and time attendance offerings, the MinMoe Face Recognition Terminals, promising a new era of face recognition access control is coming.
To meet a multitude of real-world scenarios and customer needs, the MinMoe Face Recognition Terminals lineup features four total series: Value Series, Pro Series, Ultra Series, and Face Recognition Modules for Turnstile. With powerful functions and competitive prices, the Value Series
HIKVISION ACCESS CONTROL
Hikvision DS-K1T671MF Pro Face Access Terminal
HIKVISION ACCESS CONTROL
Hikvision DS-K1T341AM Value Series Face Access Terminal
products have been uniquely designed for SMB scenarios, such as offices and retail shops.
"We see great advantages in the 'touch-free' experience that face recognition provides. With advanced deep learning technology and diverse practical functions, we expect that MinMoe Face Recognition Terminals can bring more security and efficiency to our small and medium sized customers, making access control and time attendance much easier," says Frank Zhang, President of the International Product and Solution Center at Hikvision.
Fast, accurate recognition, even in darkness
Hikvision MinMoe Face Recognition Terminals are powered by a deep learning algorithm, which increases accuracy of face recognition to over 99% and enhances verification speeds to under 0.2 seconds. The enhanced verification rates and accuracy ensure a pleasant, "touch-free" experience for users – a vast improvement over swiping ID cards or fingerprint scans.
Furthermore, MinMoe Face Recognition Terminals perform well in low- and even zero-light environments.
Better security with face anti-spoofing
Equipped with dual lenses – a visible light lens and an infrared lens – MinMoe Face Recognition Terminals will only grant access when both lenses detect the same person, as well as determine whether the face is actual, not an image. This anti-spoofing technology makes access control management much safer and prevents most attendance fraud.
Multiple linkages and third-party integration options
Along with door linkage, MinMoe Face Recognition Terminals can be linked with NVRs for data recording and storage. They can also be linked with network cameras to allow clear video recording of the scene when any pre-set events are triggered. Meanwhile, MinMoe products provide an abundance of third-party integration options for extensive compatibility, allowing quick and cost-effective connections between MinMoe Face Recognition Terminals and customers' existing door control and attendance systems.
ZKteco Facial Recognition Products 
On the cutting edge of biometrics, Zkteco touch-screen, dual-mode biometric terminals provide security for the most vulnerable security environments with facial recognition and fingerprint readers, while allowing flexibility with an additional proximity data collection option.
Zkteco Uface 800 Dual-Mode Biometric Data Collection Terminal
The uFace800 dual-mode, biometric time and attendance terminal includes both a camera for facial recognition and a fingerprint capture device for versatile and secure biometric applications.
3.5-inch, color LCD touch screen
High-resolution infrared camera
Stores up to 1200 facial and 2000 fingerprint templates
Multi-language capable
Fast verification speed in either mode
Battery backup, allowing approximately 4 hours of continuous operation
Flexible firmware allows easily extended functions to customize to specific end user requirements
Single facial template is registered per user
WiFi Standard
Presented photo detection: able to distinguish between live image and photo
Zkteco SpeedFace-V5L [TD] Face and Palm Recognition Recognition Terminal
SpeedFace-V5L [TD] is a high-speed biometric access control terminal with face, palm vein and fingerprint recognition with mask detection and body temperature measurement within the SpeedFace-V5L Series. Zkteco SpeedFace-V5L Series is a fully upgraded version of the SpeedFace-V5L Visible Light Facial Recognition Terminal, using intelligent engineering facial recognition algorithms and the latest computer vision technology. It supports both facial and palm verification with large capacity and speedy recognition, as well as improves security performance in all aspects.
The Series adopts touchless recognition technology and new functions namely body temperature measurement and masked individual identification (SpeedFace-V5L [TD]) which eliminates hygiene concerns effectively. It is also equipped with ultimate anti-spoofing algorithm for facial recognition against almost all types of fake photos and videos attack. Importantly, the 3-in-1 palm recognition (Palm Shape, Palm Print and Palm Vein) is performed in 0.35 sec per hand; the palm data acquired will be compared with a maximum of 3,000 palm templates (SpeedFace-V5L [P]).
The terminal with body temperature measurement and mask detection (SpeedFace-V5L [TD]) will be a perfect choice to help reduce the spread of germs and prevent infections straightly at each access point of any premises and public areas such as hospitals, factories, schools, commercial buildings, stations during the outbreak of infectious and contagious diseases with its fast and accurate body temperature measurement and masked individual identification funtions during facial and palm verification.
Parameter
| | |
| --- | --- |
| Display | 5-inch Touch Screen |
| Face Capacity | 6,000 |
| Palm Capacity | 3,000 |
| Fingerprint Capacity | 6,000 (Standard); 10,000 (Optional) |
| Transactions | 200,000 |
| Operation System | Linux |
| Standard Functions | ADMS, T9 Input, DST, Camera, 9-digit User ID, Access Levels, Groups, Holidays, Anti- passback,Record Query, Tamper Switch Alarm, Multiple Verify Modes. |
| Hardware | 900MHz Dual Core CPU, Memory 512MB RAM / 8G Flash, 2MP WDR Low Light Camera,Adjustable Light Brightness LED |
| Communication | TCP/IP, WiFi (Optional), Wiegand input / output, RS485 |
| Access Control Interface | 3rd Party Electric Lock, Door Sensor, Exit Button, Alarm output, Auxiliary Input |
| Facial Recognition Speed | ≤1s |
| Biometrics Algorithms | ZKFace V5.8 & ZKFinger V10.0 & ZKPalm V12.0 |
| Power Supply | 12V 3A |
| Operating Humidity | 10% – 90% |
| Operating Temperature | 16°C ~ 32°C (60.8°F ~ 89.6°F) |
| Dimensions (W*H*D) | 91.93 * 220 * 22.5 (mm) |
| Supported Softwares | ZKBioAccess |
Suprema FaceStation 2 
Suprema FaceStation 2 is an advanced face recognition terminal, providing enhanced features. Powered by Suprema's innovation in facial biometrics, FaceStation 2 offers unrivaled matching speed, accuracy, and level of security. With Suprema's patented optic engineering, FaceStation 2 achieves up to 25,000 lx of operating illuminance which in turn, brings all-round confidence regardless of lighting conditions. Packed in an ergonomically-designed structure, FaceStation 2 provides exceptional performance and usability for diverse access control and time attendance sites, large or small.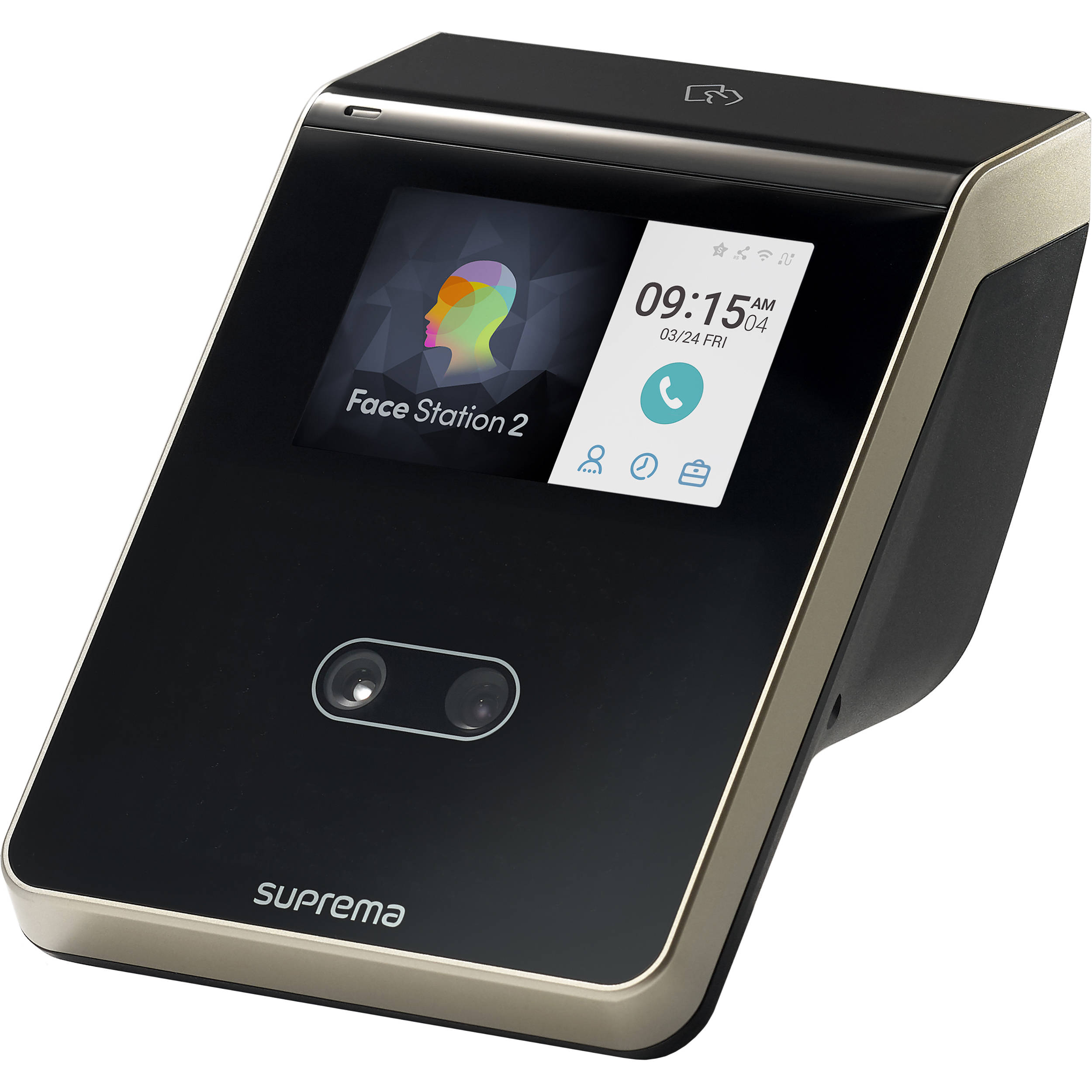 Model Name
RFID
Protections
Ingress Protection
Vandal Proof
Face
Template
Extractor / Matcher
Live Face Detection
Capacity (Face)
Users (1:1)* Based on one face enrollment per user
Users (1:N)* Based on one face enrollment per user
Max. Face per User
Text Log
Image Log
HW
CPU
Memory
LCD Type
Sound
Operating Temperature
Storage Temperature
Operating Humidity
Storage Humidity
Weight
Dimension (WxHxD, mm)
Tamper
Interface
Wi-Fi
Ethernet
RS-485
Wiegand
TTL Input
Relay
USB
SD Card
PoE
Intercom
Electrical
FS2-D
125kHz EM & 13.56Mhz MIFARE, MIFARE Plus, DESFire EV1/EV2, FeliCa8
NFC
Not supported
Not supported
SUPREMA
SUPREMA
Supported
30,000
4,000
5
5,000,000
50,000
1.4 GHz Quad Core
8GB Flash + 1GB RAM
4" color TFT LCD
24 bit Voice DSP (echo cancellation)
-20°C ~ 50°C (-68°F ~ 122°F)
-40°C ~ 70°C (-104°F ~ 158°F)
0% ~ 80%, non-condensing
0% ~ 90%, non-condensing
Device: 548g Bracket: 74g (Including washer and bolt)
141 x 164 x 125
Supported
Not supported
10/100/1000 Mbps, auto MDI/MDI-X
1ch Host or Slave (Selectable)
1ch Input, 1ch Output
2ch Inputs
1 Relay
USB 2.0 (Host)
Not supported
Not supported
Supported
DC 24 VFS2-AWB
125kHz EM, HID Prox & 13.56Mhz MIFARE, MIFARE Plus, DESFire EV1/EV2, FeliCa, iCLASS SE/SR/Seos8
NFC, BLE
Not supported
Not supported
SUPREMA
SUPREMA
Supported
30,000
4,000
5
5,000,000
50,000
1.4 GHz Quad Core
8GB Flash + 1GB RAM
4" color TFT LCD
24 bit Voice DSP (echo cancellation)
-20°C ~ 50°C (-68°F ~ 122°F)
-40°C ~ 70°C (-104°F ~ 158°F)
0% ~ 80%, non-condensing
0% ~ 90%, non-condensing
Device: 548g Bracket: 74g (Including washer and bolt)
141 x 164 x 125
Supported
Built-in, IEEE 802.11 b/g
10/100/1000 Mbps, auto MDI/MDI-X
1ch Host or Slave (Selectable)
1ch Input, 1ch Output
2ch Inputs
1 Relay
USB 2.0 (Host)
Not supported
Not supported
Supported
DC 24 V
Accessory
Power Adapter
Tilting Bracket
Peripheral Device